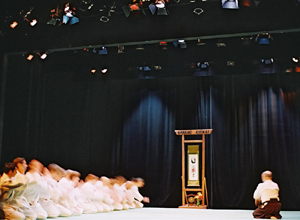 Although the event was Japanese festival, the project team wanted to involve the local organizations in the event. The team members knew that working with the local people for an event would be very meaningful for them. Luckily, there were several martial art groups in Nanaimo and the project team asked them to put a demonstration at the event. They all accepted the request.
The Japanese-Canadian organization called Central- Vancouver Island Japanese-Canadian Society also helped the event with providing cultural displays and hands-on activities. Tea ceremony, flower arrangement, Bonsai, Weaving were provided by the people from the Society. The event volunteers were able to interact with those local people and organizations through organizing the event.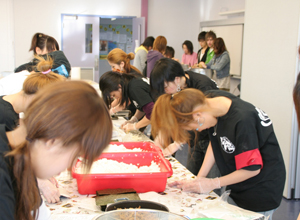 The number of the volunteers increased year by year.
In 2006, many non-Japanese speaking volunteers were involved in organizing the event. Those students came to the previous festivals as visitors and decided to volunteer for the 2006 festival. Usually students are busy with school and other commitments, therefore it is not even easy to find Japanese volunteers that could spend so many hours for the event preparation . It was great for the Japanese volunteers to see volunteers from other countries willing to offer their time.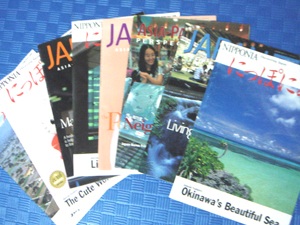 Japan consulate in Vancouver supported the festivals every year. They helped the event with providing posters, magazines, photos, books and movies.
The event organizers were also able to get sponsors for Festival 2006 and 2007. By getting those sponsorships from the local businesses, the organizers were able to do many different things with low cost. The festivals would not be as great as they were without those support from the local community and businesses.

Makoto Fukui - Bonsai
Kim-Cowley Adam - Saori Weaving
Renshikan - Karate
Nanaimo Aikikai Club - Aikido
Todokai Iaido - Iaido
Peter Moore - Judo
Robert Macrae - Tea Ceremony
Members of Central Vancouver Island Japanese-Canadian Society - Flower Arrangement、Cultural displays
Consulate General of Japan in Vancouver
Victoria Nikkei Cultural Society (Uminari Daiko)
Vancouver Island University - International Education Department
Vancouver Island University - Student Union
Vancuover Island University - Theatre Department
Vancouver Island University - Tourism Students